Our new Spring Menu 2018 has been released, with plenty of new delights to try, and old classics to fall back on. And for an option that's a little bit of both, what better way to swing into Spring than by treating your guests to an annual Gourmet for Good favorite: the always-popular Spring Fling!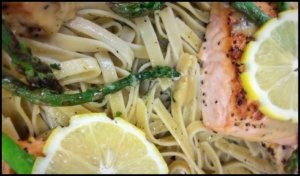 If you're not sure where to start on the new Spring menu, we definitely suggest starting here. Only available from April through June every year, the Spring Fling combines tangy lemon and fresh dill to make the kind of springtime flavors everyone craves. Our light, bright lemon-dill sauce will positively bloom on your taste-buds! Grilled asparagus spears grace the tops of juicy chicken breasts and melt-in-your-mouth salmon filets, and it's all served over a bed of perfectly al dente herb-tossed pasta.
Rounding out the buffet, you'll also receive our Strawberry Field Greens side salad, with fresh sliced strawberries, sweet red grapes, and candied walnuts over mixed greens, and our famous balsamic dressing on the side. With the bistro rolls, and the tray of our daily dessert variety also included, you've got a filling meal that's sure to please!
The Spring Fling is a favorite not only among all our clients here in the Denver Metro area, but among our staff as well! If you'd like to treat your guests to this delectable dish, you can find it in the Hot Buffets section of our menu. We are happy to take care of your catering needs online, over the phone, or however is most convenient for you!